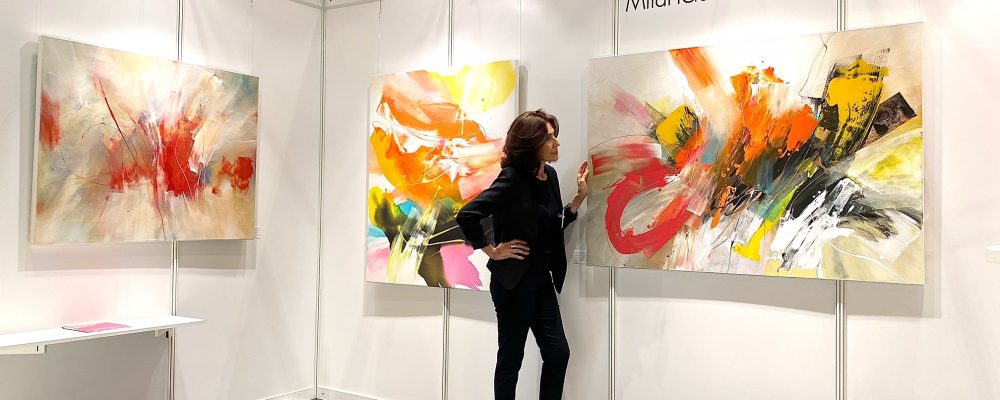 https://discoveryartfair.com/exhibitors/#!/fair/frankfurt-2021
The colourful abstract creations by Milanda de Mont, have long captured public attention both nationally and internationally. Established Abstract Artist. She has been exhibiting for over 30 years, a highly successful artistic career, she is represented by international galleries, and for many years previously by the leading Sydney Galleries.
Award winner, her works have shown in the Contemporary Salons, Art Fairs, Expos in Paris, New York, Nice, Art Monaco, Capri, Milan, Naples, including the Art Discovery Fair Frankfurt and Arte Kunstmesse Wiesbaden. Her artworks are in many collections world wide.
Selected Participant Artist in 2011 the 8th edition international Florence Biennale, Fortezza Da Basso.
2016 – 2021 Arte Kunstmesse in Sindelfingen, 2019 & 2021 Arte Wiesbaden, 2021 Arte Kunstsalon Konstanz (Constance) Bodenseeforum, Germany.
She has associated with the renowned Kunsakademie Dusseldorf in 1996, and with Prof. Christian Megert Last Member Group Zero, Dusseldorf, Germany.
Selected in collaborative Group exhibitions internationally, and with famous European artists such as; Jacque Renoir in the International Monaco GemlucArt Contemporary, and the renowned Italian artist Achille Pace at the Palazzo dell'Annunziata Museum, curated by Pino Nicoletti, Matera, Italy.
De Mont's strong foundation is manifested in her life long artistic journey. As Painter, Performance Artist, Illustrator, Graphic Designer, Art Director. One of the pioneer graduates in the graphic design field in Australia, an influential figure as Art Teacher & Lecturer, at the Arts & Media Sector of Northern Sydney Institute of TAFE, NSW, Sydney, Australia. She has conducted Art Seminars & Workshops at the Gosford Regional Art Gallery, NSW. Since 2018 – 2021 she is invited Lecturer at the Kunstzeit Allensbach Kunstakademie in Constance, Germany.
She has received Gold Medals, First Prizes & Awards. Critically recognised by the well known European Art Historians and Critics on her works, and in variety of Press publications.
Since 2014 – 2021 she has been officially published 'Artiste Cotes' (Valued artist) by the GUID'ARTS Dictionnaire des Artistes Cotes since 15th Century France, and represented by the renowned Auction House Drouot Paris & Hotel des Ventes de Lausanne.
_______________________________
By Dr. Salvatore Russo Ph.D. Art Critic, Italy.
The works of Milanda de Mont visual narratives are made via a genius of thought that explores the mind and shows its synthesis. The artist has been able to create a new visual alphabet whose symbolism refers conceptually to the complexity of the human intellect.
2010 ArtisSpectrum, Volume 23 and 24, Publications, Chelsea New York, USA.
Milanda De Mont's enamel paintings exemplify her ideas of artistic expression as a means of liberation. De Mont's fluid brushstrokes exhibit a vibrancy and life of their own. Inspired by the energies and movement of nature, De Mont is able to personify these energies through colors, lines, and forms that transform the canvas into a unified living image. De Mont describes her process as energetic and spontaneous. "I let myself be carried away without resistance while my entire being is dedicated to the free-flowing expression of line, color and form as it coalesces into living imagery." Influenced by the physical urges of Abstract Expressionism, her paintings unleash the fury of Franz Kline with the colorful lyricism of Helen Frankenthaler. Each painting sustains its own unity while at the same time encompassing a vivid, distinct, abstract expression that is universally appealing. De Mont's appeal lies in her ability to express relationships that exist between nature and mankind. The abstract forms De Mont creates, express a unification of these natural and humanistic elements.