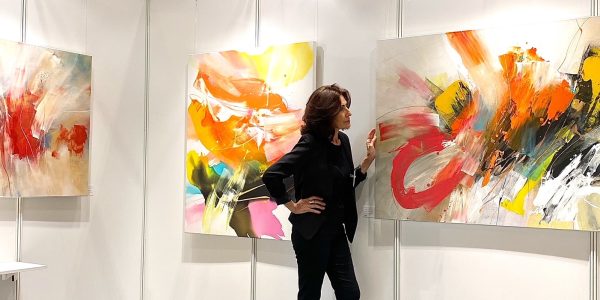 About the Artist Milanda de Mont (Gregorian) Review by CRELALA Kunst Gallery Germany.
At the turning point of a time that seeks new answers, Milanda de Mont follows a new visual approach that is not always easy to spot and at times perhaps only accessible to those who can open their minds to see. One needs to take their time to immerse themselves in these expressive creations, full of feeling. To truly experience color and reflection projected by the spectrum of light. The art of Milanda de Mont is unique. The imagination, expressed in each work celebrate a feast for the senses.
The Australian Armenian artist masters the art of brushwork, as in a calligraphic masterpiece, par excellence. Thoughts and inspiration from another level of consciousness find their way onto the canvas or her surface, as if from another universe into each quantum of one's self. Milanda de Mont guides the brush full of spirit and life and lets existence erupt in color to show the viewer the way to a new dimension. The artist creates an expression that takes one on a journey through an unknown cosmos.
Surrounded by elementary particles, we are giants in this world and at the same time dwarfs in the infinite vastness of the universe. Milanda de Mont artistically implements this knowledge in her works and builds a bridge between the worlds. One can feel there is more, obviously because we have learned to see, learned to believe.
Milanda de Mont has mastered the art of abstracting all observations and freezing them in a sweeping movement. She expresses states of mind without giving them an all too clear picture. And everything she creates reflects what she has ever seen, witnessed and experienced. The world is perceived as one and presented in facets of being. The complete abstraction reveals the existential and the detachment from values and desires. If you dive in and are open to the flow that surrounds you, if you want to feel it, you will continue to gain new insights. The work is spontaneous and energetic, leaving a holistic, living picture. As the artist describes, it is working in silence, in which the flow of all energies is set in motion and one is carried away, as if in a trance. The connection to nature can be felt. The artist and her emerging art becomes the mediator between the elements.
————————
Short Biography:
The broad spectrum of cultural disciplines, aided by her lifelong study of the cultural production of East and West, born into a celebrated Armenian artistic family in Persia during the Shah's reign and being tutored in oil painting, classical dance, Persian Calligraphy and Miniature Painting in her childhood. Her pursuit of artistic knowledge has since seen her traveling the world, living at various times in different countries. It is this intimate knowledge of global art and culture that lends her work such depth, vitality, diversity and distinct.
Award winning established Australian Artist from Sydney,

previously represented by galleries in Sydney & Melbourne exhibiting Australia wide.

She lived in the US in the mid 70's working as illustrator, graphic designer, and commercial artist.
Moving to Germany from Australia in the past decades, Milanda de Mont is an international artist, participating in collaboration with Europe galleries in the international contemporary Salons & Art Fairs/Expos, such as; New York Art Expo, Art Expo Paris, ART 3F Nice, ART 3F Mulhous, Milan Art Expo, 2012 Art Monaco, 2011-2017 international Contemporary Monaco GemlucArt, and the 8th edition 2011 International Florence Biennale Fortezza Da Basso. Participations in 2016 – 2018 in the Arte Kunstmesse Sindelfingen,

2021 Arte Kunstsalon Konstanz (Constance) Bodenseeforum,

2019 – 2022 in Arte Wiesbaden, 2021 Art Discovery Fair Frankfurt, and 2022 ARTMUC Munich, Germany. Her works are in numerous collections world wide and collected in the Permanent collections; such as the Yerevan Modern Art Museum, National Gallery of Armenia, Palazzo dell Annunziata Matera, Italy, to name a few.
Recognised artist by the contemporary international GemlucArt Monaco under the Patronage of Monaco's HRH Princess of Hanover, she has had Group exhibitions with France's famous artist; Jacque Renoir (Grandson of the French Renoir Dynasty) at the Auditorium Raineer III, Monaco. As well in 2017 she exhibited with the renowned Italian artist Achille Pace, (Italy's four times representative at the Venice Biennale), this exhibition was curated by the well known Italian Art Historian and Critic; Pino Nicoletti, at the

Palazzo dell'Annunziata Museum,

Matera, Italy.
She has received prestigious Scholarship Awards in 1996 and 2001 by the Goethe-Institut Inter Nationes in Munich and Berlin. In 1996 she associated with the renowned Kunsakademie Düsseldorf and with Prof. Christian Megert Last Member Group Zero, Düsseldorf, Germany.
Award Winning Artist: 2000 Wyong Art Prize, 2010 Gosford Art Prize, 2007 Finalist Audi Art Prize, 2014 Art Prize Contemporary Naples Award Italy, 2017 Capri Art Award. Critically reviewed by the European Art Historians / Critics on her works, and variety of Press publications. 2014 – 2022, officially published 'Artiste Cotes' (Valued artist) by the GUID'ARTS Dictionnaire des Artistes Cotes since 15th Century France, her works are listed in monthly auction represented by the well known Auction House Drouot Paris & Hotel des Ventes de Lausanne.
As Painter, Performance Artist, Illustrator, Graphic Designer, Art Director, she is one of the pioneer graduates in the Graphic Design and Fine Arts in Australia. Art Teacher & Lecturer, at the Arts & Media Sector of Northern Sydney Institute of TAFE, NSW, Sydney, Australia. 2018 – 2021 Teacher at the Kunstzeit Allensbach Kunstakademie in Constance, Germany.
Member; Kunst International Stuttgart, Eisenturm Kunstverein Mainz, Monaco GemlucArt Community.