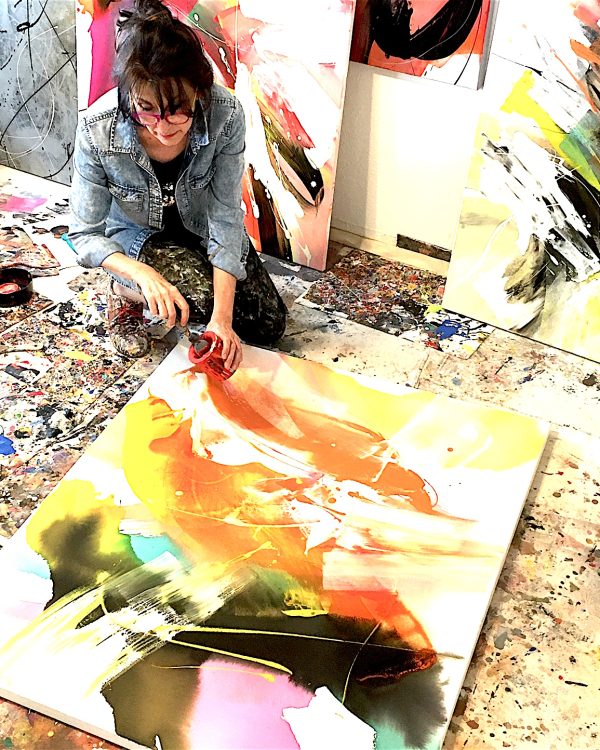 The art of Milanda de Mont (Gregorian) captures the key part of her artistic synergies.
She is established, multi Award winning Australian abstract artist based in Germany. With over 35 years of professional career, she has exhibited successfully in many solo and group exhibitions internationally; Australia, US, Germany, France, Italy, Japan. She is represented artist by Galleries, international organisations, as well has exhibited in numerous Art Fairs, and Biennales.
Recipient of the Goethe Institut Scholarships from Munich, she is a published artist and has received critics and reviews worldwide.
Her works are acquired and represented in many private and public collections, including Museums worldwide.
Her signature flowing creations have a unique poetic quality, demonstrating looseness tempered with control,
her artistic vision as a contemporary artist, developed through many years of painting, is ongoing. Energy exploding shapes through feel are expressed as a means of liberation. Her creative imagination projects a visual experience, which lie both within and outside optical world. The synthesize of her work attests her interpretations of the unseen in variations of dramatic colours, creating the invisible transformed into tangible and defining directness.
_______________________________________________
About Milanda de Mont – Artist
By Dr. Salvatore Russo Ph.D. (Art Critic, Italy)
Will you scream confessions of the soul and the psyche
Vortices of color to join the power of the sign and go to form the new object of narration. The works of Milanda de Mont visual narratives are made through a brilliance of thought that explores the mind and reports the synthesis. The refined purity tract combines suspended moments, exalting in dense colors and pure colors, contrasts of signs that generate the net, even when they are declined tone on tone with undeniable elegance. The nuances, contrasts of light and shade, the choice of colors are the result of a penetrating attention to the concreteness of the recognizable. Confessions shout. Will the soul. Whispers of the psyche. The main features of a painting that has its maximum Milanda de Mont interpreter. The artist has been able to create a new visual alphabet whose symbolism refers conceptually to the complexity of the human intellect.