Represented Artist at Monteoliveto Gallery, Paris, Nice, France, & Naples, Italy.
http://ww.monteolivetogallery.com
https://www.monteolivetogallery.com/artist/milanda-de-mont/
Represented Artist at Gravis Art Galerie, Nice Ville, French Riviera, France.
https://gravisart.eu/portfolios/milanda-de-mont/
Milanda De Mont (Gregorian) is known as Painter to a great critical acclaim, prolific Australian contemporary abstract artist, based in Germany, presented international artist in well known international exhibitions. Over 35 years of professional exhibiting career nationally and internationally, she has won a bevy of prestigious Australian and international Awards and First Prizes. De Mont is presented in numerous Galleries and Museums, exhibiting in Paris, Monte Carlo, Nice, New York, Milan, Florence, and in most German Cities; such as: Wiesbaden, Stuttgart, Munich, Frankfurt, Aschaffenburg, as well in Yerevan, Republic of Armenia. For many years, selected participant artist in the known international Art Fairs such as; Art Monaco, GemlucART Monte Carlo, New York Art Expo, Art Expo Paris, Arte Kunstmesse Wiesbaden & Stuttgart, Art MUC Munich to name a few.
Art Influencer, Educator & Performance Artist. Since 1986, she was represented artist by top Sydney Art Galleries, exhibiting as well in Melbourne, & the Central Coast NSW, before she moved to Europe.
De Mont has received official Award, and recognised Title: 'Cotation Agréée' – 'Listed Valued Artist' by Christian Sorriano, Art Expert, Evaluator & Auctioneer, for Drouot Paris, Hotel des Ventes de Lausanne, as well Customs Expert and Assessor, Expert near Administrative Courts, Charged with Mission by the French Government, decree of December 2, 1992, in order to structure "The professions of Art and Antiquities". She is Published yearly 'Valued Artist' in the GUID'ARTS Dictionnaire des Artistes Cotes, since 15thCentury France. Her works are represented for monthly auction with the Drouot Paris and Hotel des Ventes de Lausanne.
Extensively travelled in the world, painting in various countries, achieving her unique style of art, her creations appeal to many art lovers, organisations, curators, galleries & museums, and the public. De Mont's oeuvre encompasses small to large sized contemporary paintings, performance art, drawings, and works on paper.
She has received various critics and reviews worldwide. Her works are collected in many private and public collections including Yerevan Modern Art Museum, National Gallery of Armenia, Museum Palazzo dell' Annunziata, Matera, Italy, curated by the renowned Art Historian & Critic, Professor Pino Nicoletti. Her artistic synergies, signature flowing creations have a unique poetic quality, demonstrating looseness tempered with control, her artistic vision as a contemporary artist, developed through many years of painting, is ongoing.
Previous Exhibition 2023 Arte Wiesbaden September 8th - 12th, Stand B4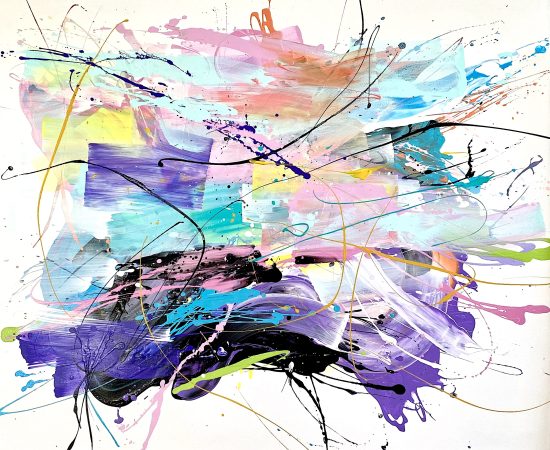 Monteoliveto Gallery, CITIES OF THE WORLD, 14 September to 25 October 2023, 15 rue Saint Bernard, 75011, Paris.
Exclusive Abstract Paintings